TBoGT vám prináša VIP členstvo v najluxusnejších kluboch vrátane obľúbených klubov Tonyho Princa ako napríklad Maisonette 9, Hercules a Bahama Mamas známy pre obchody z bielym mäsom. Samozrejme tu budete môcť aj tancovať. Tu nájdete všetky informácie.


Kluby:

The Ballad Of Gay Tony prináša 3 nové nočné kluby, ktoré vlastní Tony Prince.


Maisonette 9:

Klub, do ktorého môžu vstúpiť iba členovia a ich priatelia. Nachádza sa v Algonquine. Klub Maisonette 9 založil v roku 2003 kráľ nočného života v LC, Tony Prince.


Bahama Mamas:

Klub, ktorý je známy najmä kvôli obchodu s bielym mäsom. Tu začína párty! V tomto klube nájdete hlavne ľudí, závislých na steroidoch. Je možné, že tu uvidíme aj Brucieho Kibbutza


Ak ste ženatý a ste v strednom veku, nepustia vás sem. (Pokiaľ si neobjednáte tri fľaše)


Hercules:

Tanečný klub pre homosexuálov. Vlastní ho Tony Prince, ktorý tu je zároveň VIP členom.


Minyhry:



Vo vyššie spomenutých kluboch si môžeme zahrať 2 nové minihry.


Tancovanie:

Tancovanie sa prvýkrát objavilo už v San Andreas. Teraz sa táto možnosť vracia späť exkluzívne pre majiteľov Xbox 360. Čím lepšie budete tancovať, tým vyššie skóre budete mať.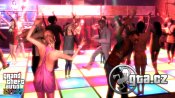 Pitie:



Vo VIP časti klubu Maisonette 9 si budete môcť zahrať minihru, v ktorej je hlavnou úlohou toho čo najviac vypiť. Keď pôjdete preč z klubu, snažte sa zhodiť čo najmenej návštevníkov.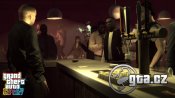 Starostlivosť o kluby:



V Tonyho kluboch môžete byť vyhadzovačom. Proste keď niekto bude robiť neporiadok, vy sa o neho postaráte (aspoň tak sa to dá nazvať).